b-903-hale-kaimana-ko-olina-beach-villa
Hale Kaimana Ko Olina Beach Villa (B903) | Ocean View Resort Vacation Rental in Kapolei, HI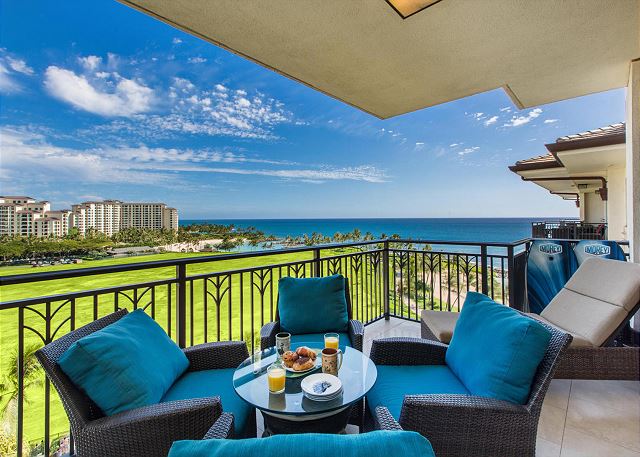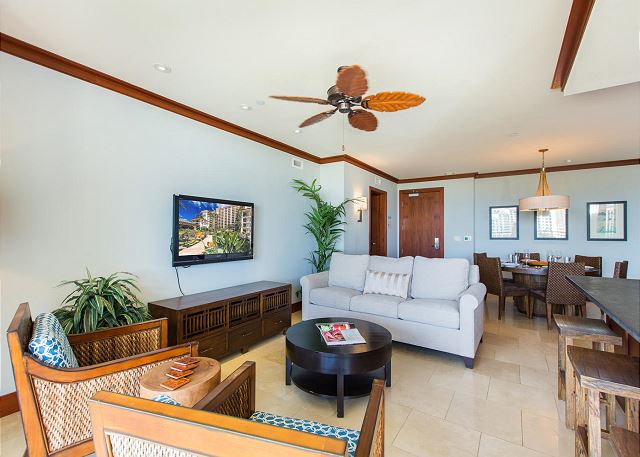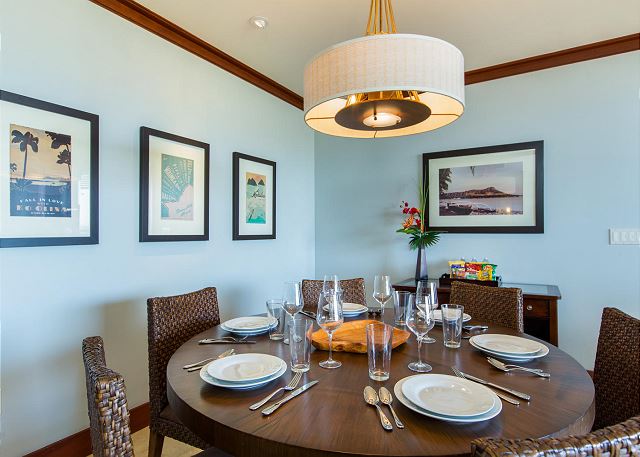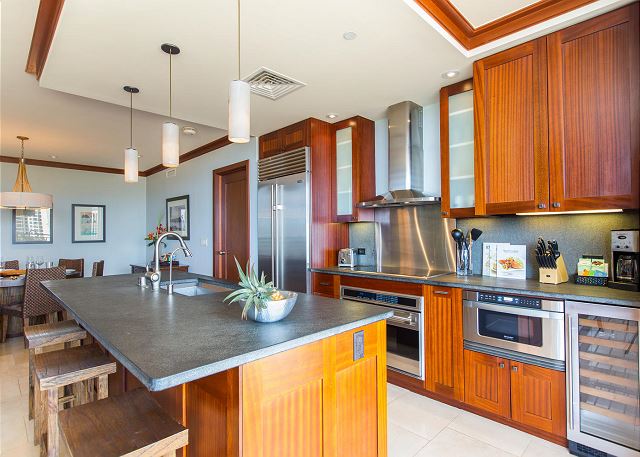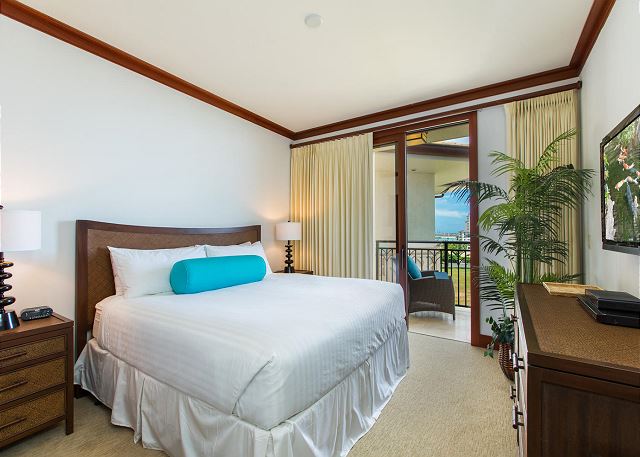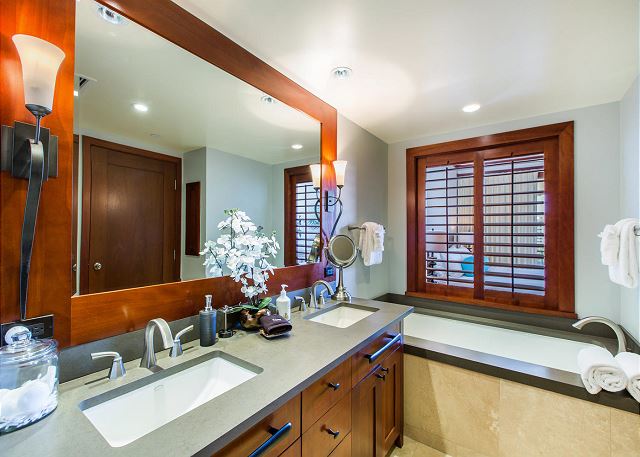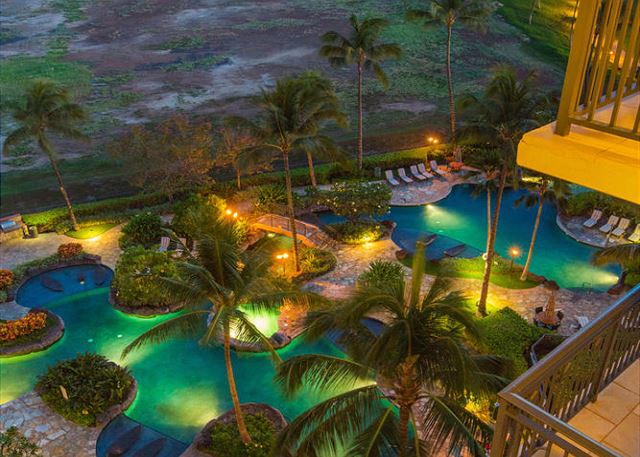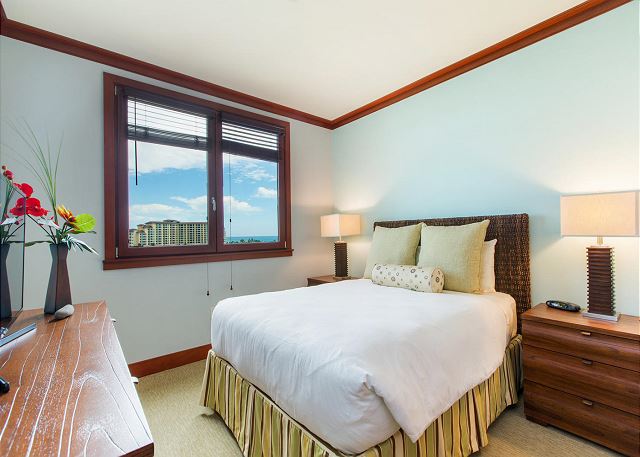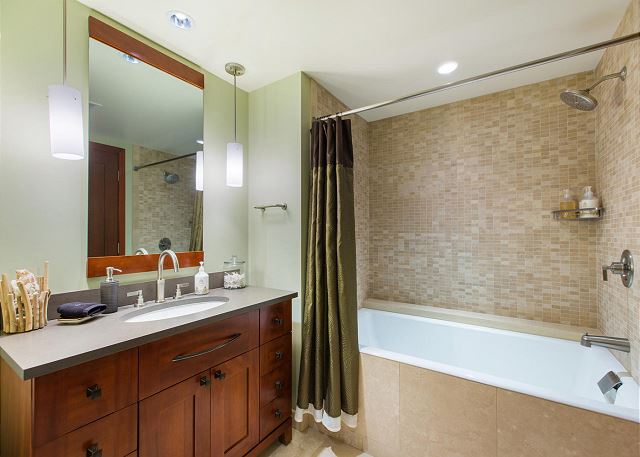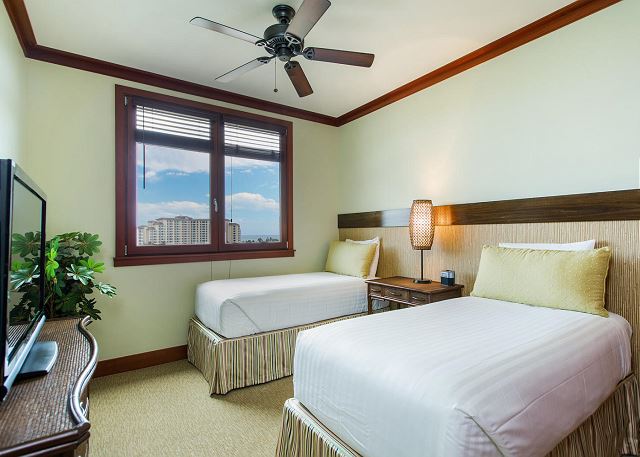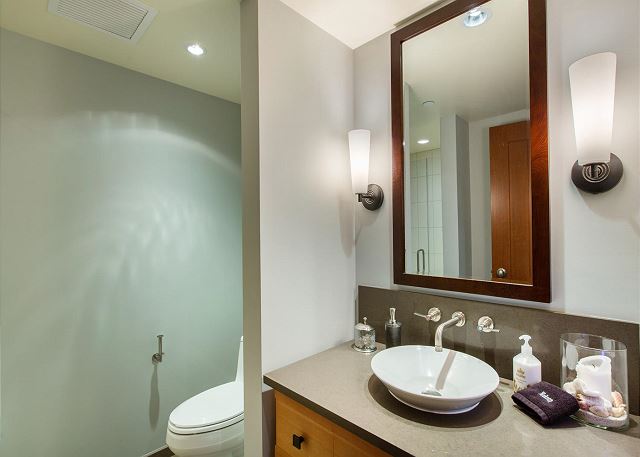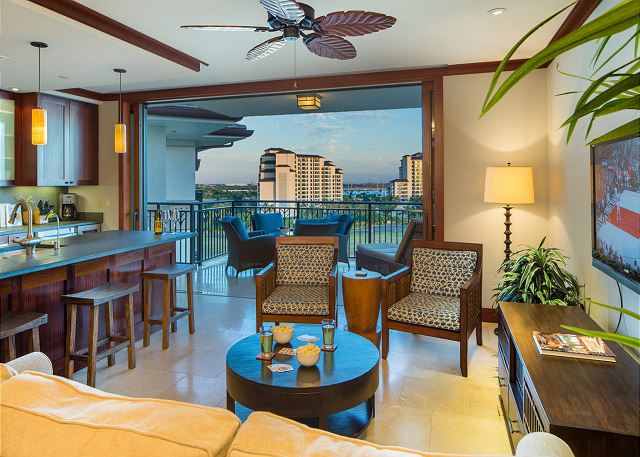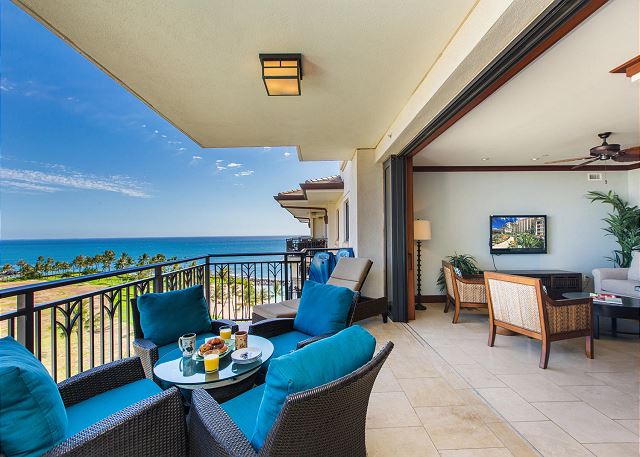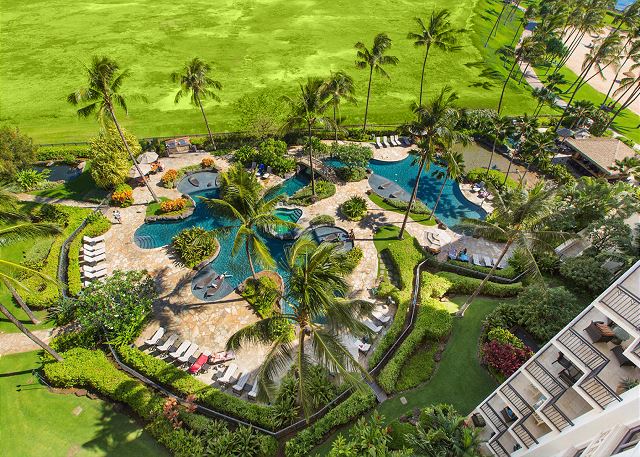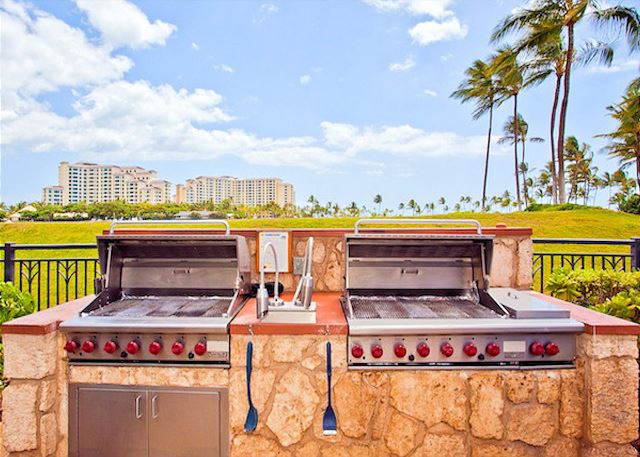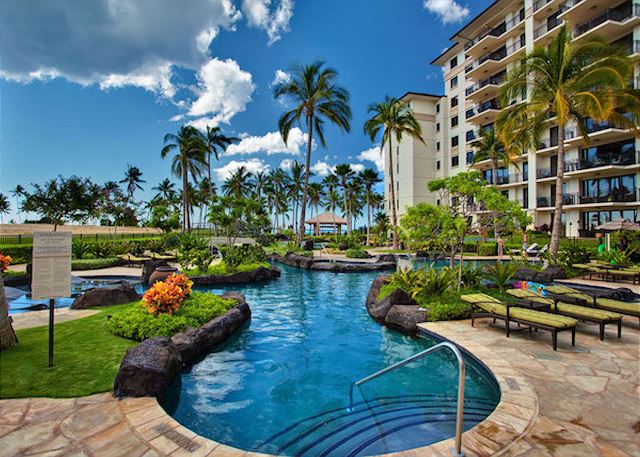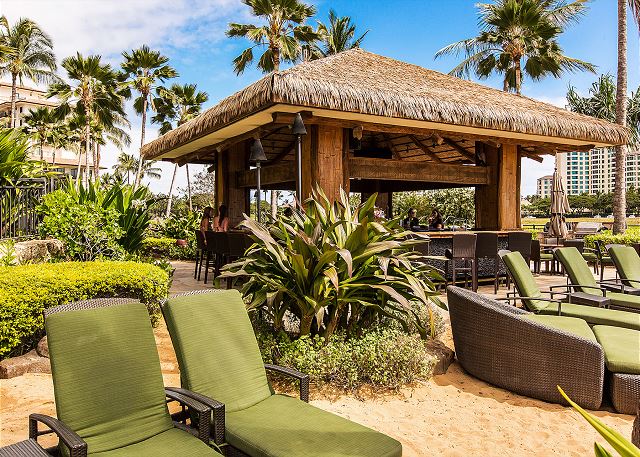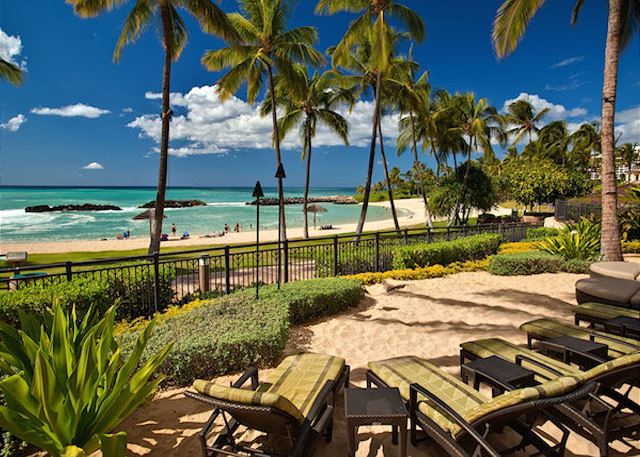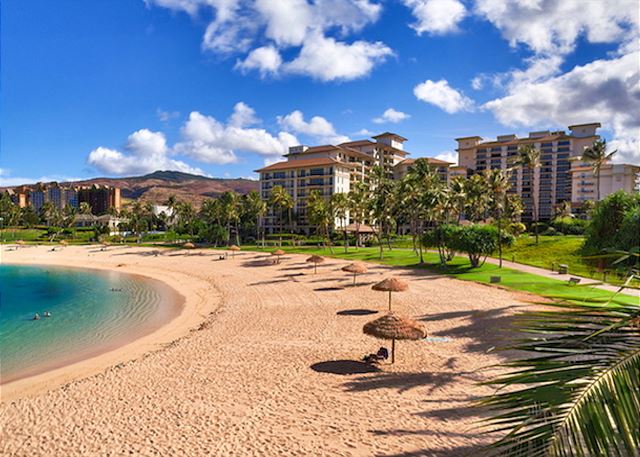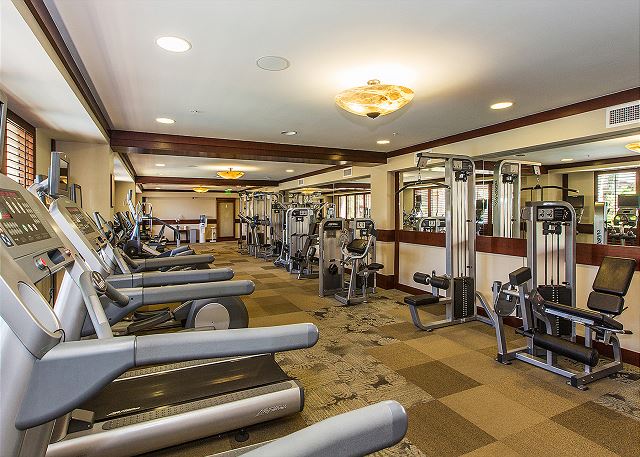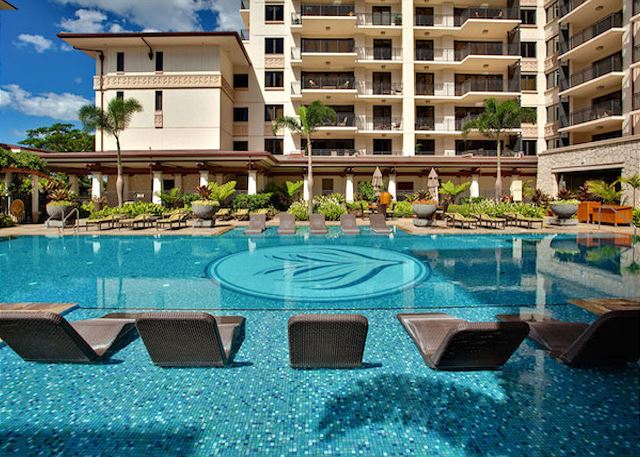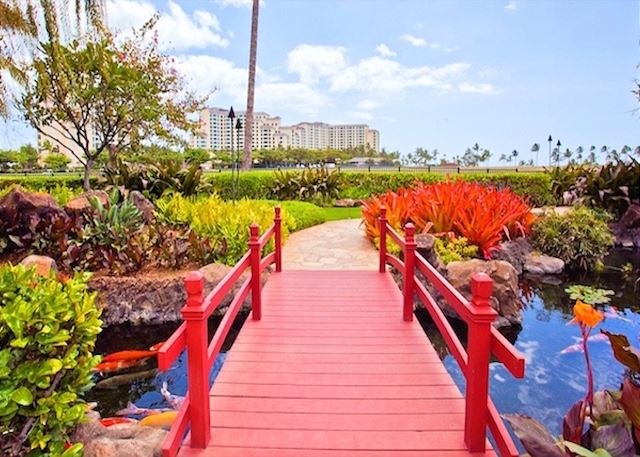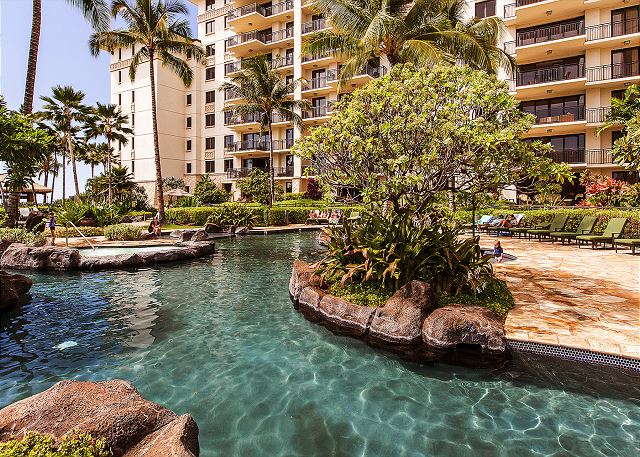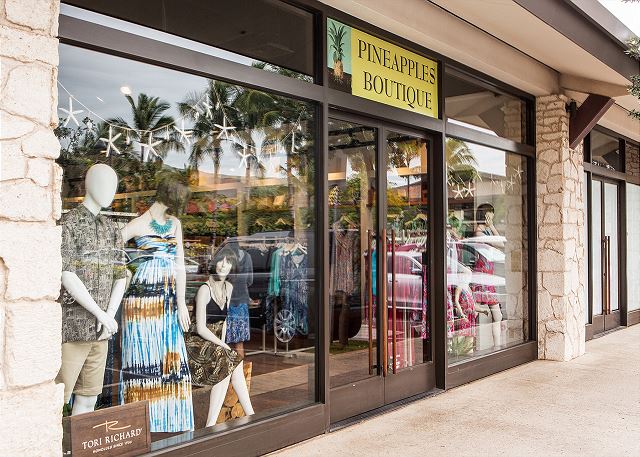 Book with confidence! This vacation rental is a LEGAL Oahu vacation rental operating in a Resort Zoned District and is not affected by the passage of Bill 89.
LIVE CALENDAR: If the calendar shows as available, the property IS available and can be booked INSTANTLY online 24/7. This listing and availability are updated in real-time. You can click/tap the calendar tab to see availability. Feel free to contact us should you have any questions prior to booking. (MINIMUM 6 NIGHT STAY)
LOCATION: This Villa is located on the 9th floor of the Beach Tower at the Beach Villas at Ko Olina right on Lagoon 2.
Beachfront Living at its finest! This 3 bedroom, 3 bath Villa with central AC, is located in the beautiful Ko Olina Resort on the quiet West side of Oahu. The Beach Villas are the newest, and only, beachfront condominiums available on the island in 25 years.
You can get that passion ramped up in the Fitness Center, located on the first floor overlooking the amazing lap pool. It boasts top of the line exercise equipment, a private Pilates room as well as his/hers saunas and steam rooms. The Lap Pool is perfect for an early morning workout or leisurely afternoon nap. The Lagoon Pool provides a safe and fun place for the kids to swim all day and features its own sand bottom that the little ones will love! There are three Jacuzzis to melt into after a day on the Ted Robinson Golf Course located across the street! The amenities don't end there. The Ko Olina Resort is nothing short of pristine. The four man-made lagoons are connected by a walking path perfect for that romantic sunrise or sunset stroll. The sand is white, the water is clear and your body is relaxed. There are outstanding restaurants within walking distance (Roy's Restaurant, Chuck's Steakhouse & Paradise Cove Luau to name a few). There is also a marina offering snorkel/fishing day trips so you have tales to tell when you get home!
The amenities and outdoor spaces at Ko Olina are not the only wonderful things you will be enjoying during your stay. This beautiful villa's Designer furnishings represent the Island Lifestyle that is both luxurious and comfortable. The views from every room are sensational - you don't even have to get out of bed in the Master Bedroom to see the glistening blue ocean! Open up the pocket doors to the lanai and the transition from indoor to outdoor living is seamless. Flat screen LCD televisions in every room, broadband internet with FREE WiFi and a fully equipped kitchen featuring a Reverse Osmosis Water Filter offer all the comforts of home. Enjoy unobstructed, unforgettable sunsets from your spacious lanai and see the occasional whale breach right off the coast! The views alone are worth a million dollars - your vacation memories here… priceless.
*This property is privately owned and is professionally managed by Love Hawaii Villas.
ADDITIONAL INFORMATION AND DISCLOSURES:
1. Rates and fees are subject to change. 6-night minimum stay required
2. This vacation home has been registered as a Transient Accommodation with the State of Hawaii – HAWAII TAX ID # TA 044-193-1776-01
3. 92-102 Waialii Pl., #B-903, Kapolei HI 96707
NOTICE FROM THE BEACH VILLA ASSOCIATION: The Lap Pool will be closed Sep. 16 - Dec. 20, 2019 for refurbishing and work will take place Mon-Fri between 7:30am - 5:30pm. The larger Lagoon Pool with two Jacuzzi spas, BBQ grills and beach bar is open daily 8am - 9pm and accessible by all Guests.
*Additional taxes and fees will be applied to the rental rate. Enter dates and refresh pricing to review total costs.
| | Nightly | Weekly |
| --- | --- | --- |
| November 22 - November 30, 2019 | $599 | $4,193 |
| December 01 - December 19, 2019 | $399 | $2,793 |
| December 20 - January 06, 2020 | $1,499 | $10,493 |
| January 07 - January 31, 2020 | $599 | $4,193 |
| February 01 - February 29, 2020 | $595 | $4,165 |
| March 01 - March 31, 2020 | $595 | $4,165 |
| April 01 - April 30, 2020 | $595 | $4,165 |
| May 01 - May 31, 2020 | $595 | $4,165 |
| June 01 - June 30, 2020 | $595 | $4,165 |
| July 01 - July 31, 2020 | $595 | $4,165 |
| August 01 - August 15, 2020 | $595 | $4,165 |
| August 16 - August 31, 2020 | $595 | $4,165 |
| September 01 - September 30, 2020 | $395 | $2,765 |
| October 01 - October 31, 2020 | $395 | $2,765 |
| November 01 - November 30, 2020 | $499 | $3,493 |
Air Conditioning (Central)

Dolphin & Whale Watching Cruises

Hospitals & Medical Services
Thank you for entering your review. The review will become available to the system shortly.
A wonderful vacation
Rating:
Review Date: 11/13/2019
The rental agency and the Ko Olina Villa staff make your holiday experience very enjoyable and stress free. Lots of things for both kids and adults to do. Extremely safe and relaxing. It was our second time visiting and are planning to return again.
Outstanding Beach Villa -- 5 stars
Rating:
Review Date: 03/24/2019
This unit looks just like the pictures. Very spacious and high quality. Very clean, had all the amenities we needed. The resort itself is FAR BETTER than the pictures show. Ko Olina is perfection, and this resort's pools, overall grounds, and private lagoon are excellent. And, the fact that you can walk to have dinner and drinks at the Marriott, Disney or Four Seasons....not to mention the small shops and restaurants across the street....made this a vacation to remember for a life time. We will be back.
Gorgeous suite with amazing views!
Rating:
Review Date: 12/05/2018
As someone who has stayed at Suite B903 multiple times, I can tell you with full confidence that you will thoroughly enjoy your stay here! We had such a great experience on our first vacation here that we came back the following year, and plan to go again next year as well! The suite is beautifully decorated with high-end furniture and has a great big deck for the family to enjoy. It also has deep tubs for relaxing baths and a luxurious wine fridge. There was ample room for all six in my family to sleep and relax. The unit is just an elevator ride away from the pools and beach and a short walk from restaurants and shopping. We enjoyed snorkeling, stand up paddle boarding, and relaxing by the beach. The staff was kind and attentive. This suite is a real winner!
Mahalo Ridilla Ohana! Thank you for staying again and we are glad you have enjoyed your time at the Beach Villas in #B-903. See you again next time! Mahalo! The Team at Love Hawaii Villas
Vacation in Paradise
Rating:
Review Date: 11/14/2018
We recently stayed at the Ko Olina Beach Villa (B903). It was wonderful! We were traveling with 2 other couples and the condo was perfect for the 6 of us. The view from the lanai was fantastic, the grounds were lovely, the location was great. Everything was exactly as it is shown online. The staff was friendly and responsive - they made us feel very welcome and we had one of the most relaxing vacations ever. The island of Oahu is beautiful and we had a great time. We highly recommend this property!
Dobashi ReTREAT
Rating:
Review Date: 05/17/2018
What a pleasant surprise and experience. All the accommodations were perfect for this group of people.
The baby items for our 10m baby were perfect. The welcome experience with Jared was perfect. He went the further mile to get us the extended check out at 11a. (if only HNL was more organized as your business)
The bathroom items were handy, the beach items were perfect & the kitchen was perfectly set up.
Will definitely stay here again.
Great experience and beautiful condo
Rating:
Review Date: 05/08/2018
The Beach Villas are are a high quality condo product and the location and access to the lagoons, Ko Olina resort amenities were awesome. Our kids REALLY had a great time! Love Hawaii Villas and their staff were very professional, knowledgeable and courteous. From their personal greeting and the checkin/check out process was very easy. I wish we could have stayed longer....
Fantastic!!
Rating:
Review Date: 03/19/2018
Had a wonderful time!! The villa was equipped with everything we needed!!
It was clean, organized and very spacious.
Thank you!
Wonder Vacation
Rating:
Review Date: 01/27/2018
Very helpful reservations people. Check in was smooth, even had a manager take us to our room and explained everything. Views are wonderful and the property is well maintained in a perfect location
The "HI" Life
Rating:
Review Date: 12/30/2017
The property description was perfectly accurate and we were thrilled with the amenities and cleanliness of our villa. Our experience was one we will never forget, and our family would love to return one day and stay in the same villa!
Amazing family vacation
Rating:
Review Date: 12/24/2017
These condos are the nicest we have ever stayed in. The views were spectacular! Right on beautiful swimming lagoons. Walking distance to several high end resorts mean great restaurants to choose from.
Your request has been sent. We look forward to meeting all your vacation needs!